EPIK4 Kontakt edition is a sample library based on the sounds of KAWAI K4 synthesizer from the late 80s.
The KAWAI K4 was released in 1989 as a competitor of Roland D-50. In this point of view, EPIK4 can be considered as a sister of DEEPFLIGHT, but while the Roland D-50 has a warm analogue character, the K4's digital filter gives you fuzzy but still warm sounds.
Please note that EPIK4 requires the full retail version of Kontakt (v3.5 or more recent version), as it is not compatible with the free Kontakt Player (it will stop working after 15 minutes).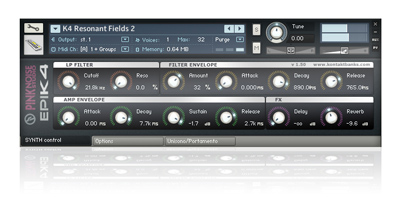 Features:
• 270 Kontakt patches in 8 categories
- [All layers]* - 114
- K4 Arp & Short Key - 24
- K4 Atmosphere & Pad - 25
- K4 Bass & Lead (poly) - 22
- K4 Experimental & FX - 10
- K4 Key & PolySynth - 30
- K4 Monosynth - 25
- K4 String & Orchestral - 20
• 1.30 GB multisamples (1140 wav files)
• 12 midi controllable knobs for realtime tweaking and for midi automation of the most important synth parameters
• extensive editing techniques: multiple velocity layers, alternate triggering and sample starts to achieve fat, lively and vivid synth sounds
* The [All Layers] is a special folder for sound designers. It contains all melodic instrument layers separately. The patches are "clean", without any filter effect and with default envelope settings. They can be useful if you want to create new sounds from scratch.
The following simplified MIDI implementation chart is designed as a quick reference guide that allows you to identify at a glance which MIDI control change (CC) messages are implemented by EPIK4 in Kontakt.
CC 07

CC 10

CC 14

CC 15

CC 16

CC 18

CC 71

CC 72

CC 73

CC 74

CC 75

CC 76

CC 91

CC 94

channel volume

channel pan

attack time of the filter envelope

decay time of the filter envelope

release time of the filter envelope

filter envelope amount

resonance of the internal LP filter

release time of the amplitude envelope.

attack time of the amplitude envelope

cutoff frequency of the internal LP filter

decay time of the amplitude envelope

sustain level of the amplitude envelope

adjusts the amount of the insert FX (delay)

adjusts the send level of the send FX (reverb)
In addition, in most cases the modwheel (CC 01) controls the filter modulations, and aftertouch adds vibrato effect.
Most of the patches are velocity sensitive and they have been designed for live performers, so a good midi keyboard which supports velocity and aftertouch is highly recommended.