Are you ready for a dive? Warm analogue strings, ambient textures, fat synth sounds and atmospheric pads - this is Deepflight.
Deepflight is a Kontakt library based on the best sounds of ROLAND D-50 synthesizer from the late 80s.
The design goal was to develop an ergonomic user interface to our sound library that exploits the advanced features of Kontakt. The result is a flexible synthesizer which offers fat and warm analogue sounds like the original hardware, but with the comfort of the software environment.
Important: DEEPFLIGHT V2 nki patches require the full retail version of Kontakt (v5.5 or more recent version), as our products are not compatible with the free Kontakt Player - it will stop working after 15 minutes!
Most of the patches are velocity sensitive and they have been designed for live performers, so a good midi keyboard which supports velocity and aftertouch is highly recommended.

Features:
• ergonomic user interface
• new re-scaled faders (see pdf below for the details) for a natural feeling
• more than 100 custom made knobs, faders and switches to control the most important parameters of the synth
• customizable global MIDI implementation for 24 controllers
• host automation for 24 controllers
• 30 different types of filters in 3 real-time switchable filter slots
• fully editable effects: equalizer, 2 types of distortion, delay, 2 types of reverb, comp
• 2 independent LFOs (waveforms: sine, triangle, square, saw, random) with tempo sync option, allowing modulation for 4 destinations: pitch, filter, volume and pan
• extensive modulation options for external sources: velocity, mod-wheel, channel aftertouch, random.
• template load/save option for sound design

Instruments
212 Kontakt patches in 7 categories:
• DF2 [All layers]
• DF2 Arp & Sequences
• DF2 Bass
• DF2 Key & Polysynth
• DF2 Lead
• DF2 Monosynth
• DF2 Pads & Strings
• 1.50 GB stereo multisamples
Deepflight 2 Users guide
Deepflight 2 MIDI implementation chart

About the D-50
Roland D-50 was released in 1987. This synth was Roland's response to the extremely popular Yamaha DX-7, however it sounded totally differently and was much easier to use. Although it's a digital synth, it still used real analogue filters, which disappeared in the following D series. That's why D-50 sounds so fat and beautiful. A real all-time favourite!;-)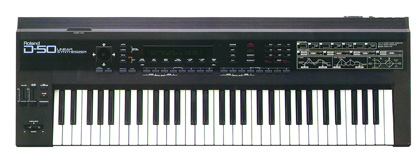 D-50 links on the net:
https://www.vintagesynth.com/roland/d50.shtml
https://en.wikipedia.org/wiki/Roland_D-50