VOYAGER 2 is a Kontakt library* based on the sounds of the legendary minimoog voyager.
VOYAGER 2 is not a hardware emulation. Our design goal was to develop a full-featured polyphonic synthesizer that uses the sounds of the original hardware as a starting point.

Although you can play the recorded minimoog sounds (as a traditional rompler), but more interestingly, you can tweak and manipulate them in many ways to create warm motion pads, animated textures, wild leads and fat basses - completely new sounds that were not possible with the original synth..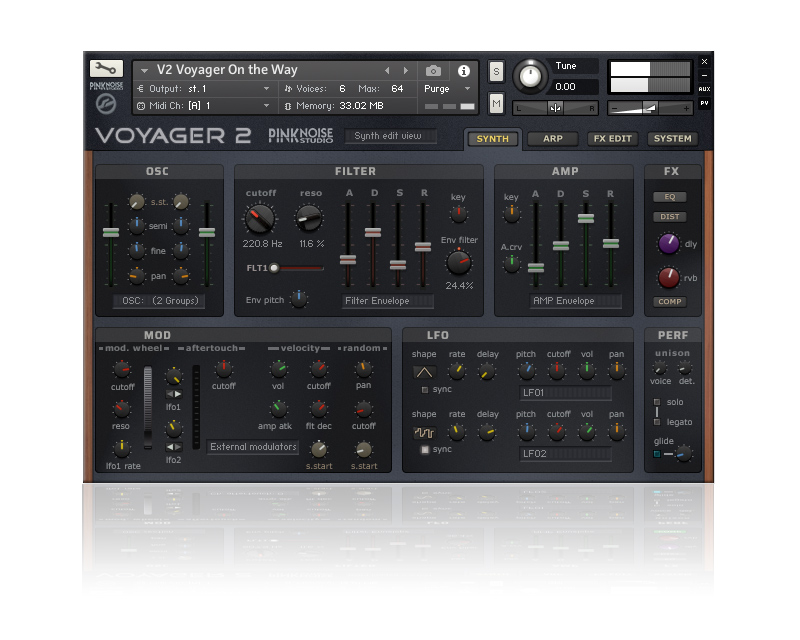 Most of the patches are velocity sensitive and they have been designed for live performers, so a good midi keyboard which supports velocity and aftertouch is highly recommended.
* Important: VOYAGER 2 requires the full retail version of Kontakt (v5.5.1 or more recent version), as it is not compatible with the free Kontakt Player -it will stop working after 15 minutes!
Features
• 360+ instrument patches in 7 categories
• ergonomic user interface using more than 100 custom made knobs, faders and switches to control the most important parameters of the synth
• programmable arpeggiator with 4 pattern slots
• editable effects: equalizer, 2 types of distortion, delay, 2 types of reverb, comp
• 30 different types of filters in 3 real-time switchable filter slots
• 2 independent LFOs with tempo sync option, allowing modulation for 4 destinations: pitch, filter, volume and pan
• modulation options for external sources: velocity, mod-wheel, aftertouch, random.
• customizable global MIDI implementation for 24 controllers
• host automation for 24 controllers
• template load/save option for sound design
You can read more:
VOYAGER 2 Kontakt edition users guide
VOYAGER 2 MIDI implementation chart
Demo video
Walking through some presets. Played live, there was no additional audio processing.
0:12 Arp & Sequence (9 presets)
3:05 Bass (9 presets)
4:55 Key & PolySynth (11 presets)
8:06 Lead (12 presets)
10:57 Pad & Atmosphere (16 presets)
Upgrade
If you purchased the previous version, you can upgrade at a special price. In this case please login to user's area and check the "Upgrade options" section.
If you purchased VOYAGER after 27 Mach 2017, VOYAGER 2 is free for you!