Evolver is a digital/analogue hybrid synth. It means the oscillators and filters are analogue, but the on-board effects (feedback, delay, distortion, hi-pass filter and mixer) are all digital. This concept is a very serviceable feature for performers, but a bit annoying for us – we don't need the digital effects, we want to use the original analogue sounds!
The "analogue hack" is a way to achieve this: it taps the analogue signals before the onboard effects' AD converters and leads it out as two separated dual mono channels. (This hardware modification needs a skilled technician, so many thanks to the absolute team!)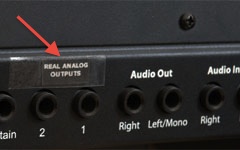 The results are true analogue sounds, without the unnecessary extra AD/DA conversions. Thanks to the advanced features of Kontakt, we can use its own effect arsenal in a much more flexible and complex way – and this is our big goal!