G2AVITY is a Kontakt synth library* based on the sounds of the legendary Nord Modular G2X synth from Clavia.
"Prepare yourself for a journey where your creativity can reach new levels" - this is a quote from the 'Welcome' section of the G2 manual, and nothing can describe this synthesizer better.
The Nord Modular G2 is an incredible instrument, providing an almost unlimited variation of synth architectures, with the facility to simulate subtractive, additive, FM, and physical modelling synthesis methods. And it does it all with the elegance and quality of the Nords.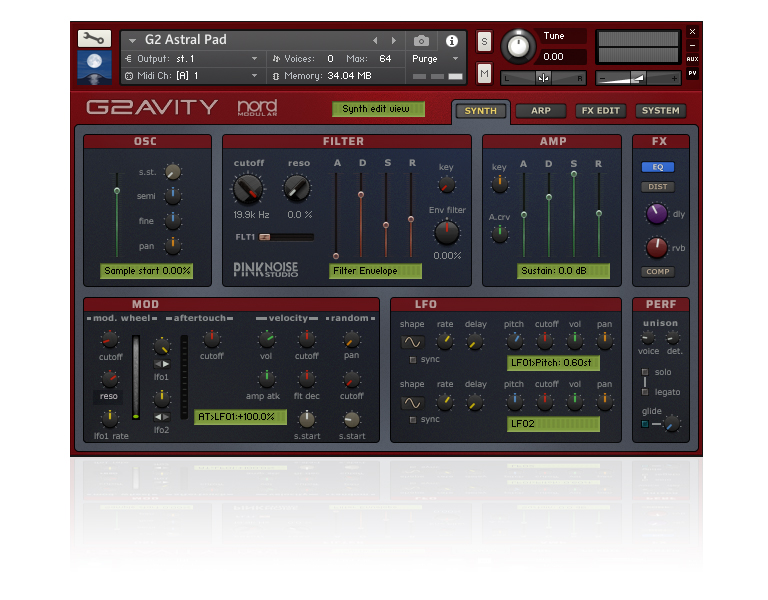 Most of the patches are velocity sensitive and they have been designed for live performers, so a good midi keyboard which supports velocity and aftertouch is highly recommended.
* Important: G2AVITY requires the full retail version of Kontakt (v5.5.1 or more recent version), as it is not compatible with the free Kontakt Player -it will stop working after 15 minutes!
Features
• 2 GB of meticulously edited multisamples from the Nord Modular G2X
• 400+ instrument patches in 8 categories
• ergonomic user interface using more than 100 custom made knobs, faders and switches to control the most important parameters of the synth
• editable effects (EQ, distortion, delay, comp) and beautiful stereo convolution reverbs from G2
• customizable global MIDI implementation for 24 controllers
• host automation for 24 controllers
• template load/save option for sound design
Demo songs
Take a breath, slow down and relax. Music by Masslevel
Demo bank
Contents: 6 Kontakt patches (variations of 3 instruments), based on 103 MB samples.

Download G2AVITY demo bank

format: rar compressed file size: 73 MB
Requirements: full retail version of Kontakt 5.51* (or higher version), it is not compatible with the free Kontakt Player.
* The 5.51 version of Kontakt still runs on OSX 10.8 (Mountain Lion) or Windows 7.
Please note: this demo bank is demo only, for demonstration and educational purpose. It is not a "free" product. You will need the full product's licence for any commercial use.