description
introduction
MATRIX is a Kontakt sound library* based on the best sounds of the famous Oberheim Matrix-1000 synthesizer.
Featuring a wide range of warm analogue sounds, this collection lets you add dynamic basses, vivid leads and fat pads to your musical productions.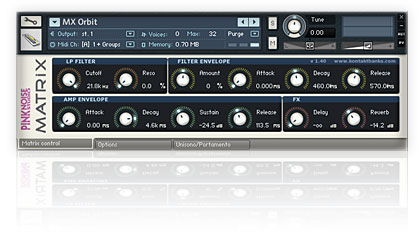 Features:
• 246 Kontakt patches (in 6 categories)
• over 1.1 GB of 44kHz/24 bit samples (1812 perfectly looped wav files)
• 12 midi controllable knobs for realtime tweaking and for midi automation of the most important synth parameters
• extensive editing techniques: multiple velocity layers, round-robin, alternate sample starts to achieve fat, lively and realistic analogue sounds
• exclusive IR sample collection for the convolution reverb of Kontakt
* please note: our Kontakt banks require the full retail version of Kontakt 3.5 (or more recent version), they are not compatible with the free Kontakt Player. MATRIX is available in Reason refill format as well.

Midi implementation
The following simplified MIDI implementation chart is designed as a quick reference guide that allows you to identify at a glance which MIDI control change (CC) messages are implemented by Revolver in Kontakt.
CC 07

CC 10

CC 14

CC 15

CC 16

CC 18

CC 71

CC 72

CC 73

CC 74

CC 75

CC 76

CC 91

CC 94

channel volume

channel pan

attack time of the filter envelope

decay time of the filter envelope

release time of the filter envelope

filter envelope amount

resonance of the internal LP filter

release time of the amplitude envelope.

attack time of the amplitude envelope

cutoff frequency of the internal LP filter

decay time of the amplitude envelope

sustain level of the amplitude envelope

adjusts the amount of the insert FX (delay)

adjusts the send level of the send FX
In addition, in most cases: modwheel (CC 01) controls the filter modulations, aftertouch adds vibrato effect.

about MATRIX-1000
Oberheim Matrix-1000 is the last real analogue synth of Oberheim from the late 80's. The Matrix-1000 is a single-space compact rackmount module. It has the same synth architecture as the Matrix 6.

Each of its 6 voices has 2 DCO's (digitally controlled analogue oscillator), a low pass filter, 2 VCA's, 3 envelope gens, 2 LFO's, and 2 ramp gens.
The Matrix-1000 provides an excellent source of pads, textures and ambient sounds. It has been used by Apollo 440, Juno Reactor, Moby, Cirrus, Fatboy Slim, Laurent Garnier, ATB, Depeche Mode, Future Sound of London, Pet Shop Boys, and Faithless.

next
demo